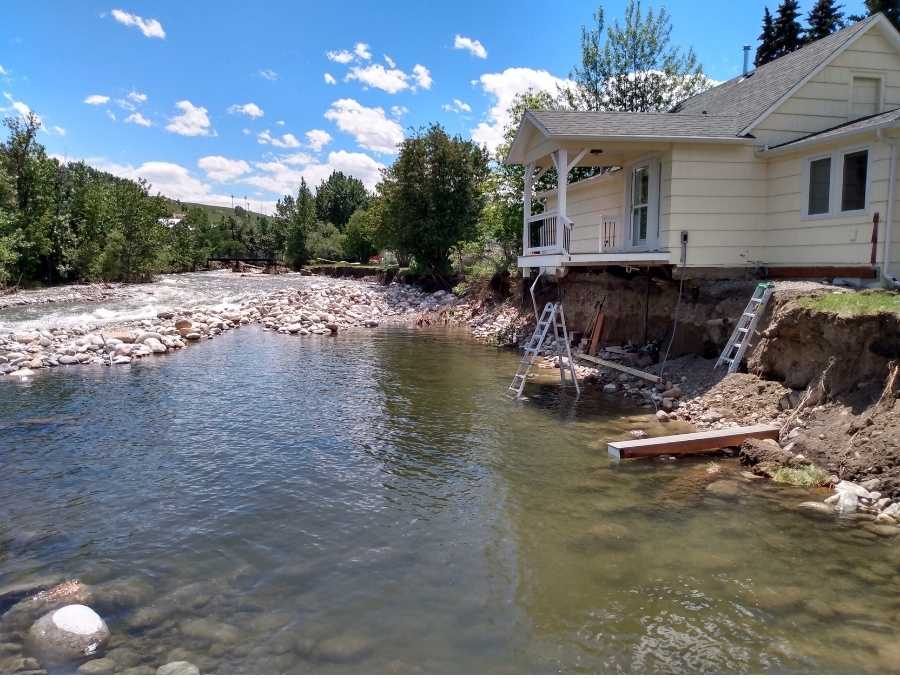 Yellowstone flood response includes geotechnical studies
On June 12, extreme flooding ravaged Yellowstone National Park. Soon after, a team of engineers arrived to document how geostructures like dams and bridge foundations did or did not hold up during the flood.
The team, whose work is sponsored by the National Science Foundation, is part of the Geotechnical Extreme Events Reconnaissance (GEER) association. GEER members arrive on site to collect perishable data, such as the condition of bridge piers and abutments damaged during flooding, before the data is erased during recovery efforts. The data and observations collected, which are freely available, help researchers better understand how and why structures failed and how engineers can build them to withstand flooding in the future.
Assistant Professor Michael Gardner, a member of GEER, was in Yellowstone shortly after the flood. It's important that researchers arrive soon after the event so they can collect the perishable data, but there are other issues at stake.
"There are larger groups working in the area," Gardner said, such as disaster response groups working to restore access to small towns whose roads have been washed away. "Our goal is to collect as much relevant data as possible, without hampering recovery efforts." Fortunately, there were no fatalities from the flooding, but Gardner has responded to deadly events in the past as part of a GEER team.
According to the National Park Service website, $50 million will be allocated in emergency funding to repair and reopen Yellowstone to visitors. Gardner said it's likely other national parks will look to Yellowstone's severe flooding as an example and may begin to consider strengthening their own infrastructure.
The data was collected using a variety of instruments provided by the NHERI RAPID Facility, headquartered at the University of Washington (UW), and is a collaboration between UW, Oregon State University, Virginia Tech and the University of Florida. The instruments used included LiDARs, drones and multispectral cameras. The drones are helping researchers get to places they wouldn't otherwise be able to reach due to flooding.
The gallery below includes a series of photos from the Yellowstone flood, courtesy of GEER.