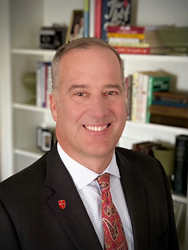 Saint-Benoît College and Saint John's University name Brian J. Bruess, Ph.D. as president
"I am deeply honored to be entrusted with this momentous and consequential opportunity," Bruess said.

ST. JOSEPH AND COLLEGEVILLE, Minnesota (PRWEB)
March 16, 2022
ST. JOSEPH AND COLLEGEVILLE, Minnesota – The College of Saint Benedict and Saint John's University announced Brian J. Bruess, Ph.D. as the first president of both institutions on March 15. Bruess has served as president of St. Norbert College, a nationally recognized liberal arts Catholic school in De Pere, Wisconsin, since 2017.
Chosen unanimously by the Boards of Saint Ben's and Saint John's following a national search, Bruess officially takes up his new role on July 1, 2022.
Prior to becoming president of St. Norbert, Bruess spent 21 years in various roles at St. Catherine's University, a Catholic liberal arts institution for women in St. Paul, Minnesota. This included more than three years as the school's executive vice president and chief operating officer.
"I am deeply honored to be entrusted with this momentous and consequential opportunity," Bruess said. "For almost 30 years I have studied and admired Saint Ben's and Saint John's. Both are nationally recognized for delivering a deeply impactful educational experience, for generating exceptional learning outcomes, and for producing motivated, action-oriented graduates who contribute to the betterment of society.
"I relish the opportunity to play a part in continuing the traditions of excellence and community found on both campuses, while harnessing our collective power to forge ahead in bold new ways that I believe, can serve as a national model of cooperation, friendliness and superior quality of education.
Bruess assumes the presidency at a time of great excitement and change. The two schools – whose campuses are located a few miles apart in central Minnesota – have long been linked. Saint John's men and Saint Ben's women began taking courses together in the early 1960s, and university departments were merged beginning in the late 1970s.
The Strong Integration initiative, which grew out of discussions between each school's boards in 2018, has now created a new governance and leadership structure designed to produce bolder strategies, greater innovation and decision-making. more nimble.
As of January 2022, CSB and SJU operate under two boards consisting of a common set of members. As president, Bruess will oversee a streamlined and more inclusive administrative structure.
The mission is to channel the best of both schools in new and exciting ways while maintaining each's individual identity.
It's a challenge Bruess is uniquely positioned to take on, said search committee co-chairs Terry Dolan and Bennett Morgan.
"We are excited about the future of our two institutions under the leadership of President Bruess," said Dolan, former Chairman of the Board of CBS. "He is ambitious with a bold vision and has an incredible passion for the liberal arts, students and our Catholic and Benedictine mission."
"The search committee included a diverse group of representatives from students, faculty, staff, alumni/alumni, monastic communities, and our Boards of Trustees. Brian's passion for our mission, the academic excellence of these two institutions, and the student experience made him our unanimous choice to be our next president.
"With his successful experiences in higher education, President Bruess is an exceptional and unique match with Saint Ben's and Saint John's and what we do for women and men," added Morgan '85, Vice President of Councils of CBS and SJU. "Our search committee could not be more excited to see how Brian and our team together unlock the potential of these two institutions in new and exciting ways, while advancing our unique and distinct mission of education and development of women and men.
Bruess brings an impressive resume to her new job. Under his leadership, St. Norbert was named one of the "Best in the Nation" in The Princeton Review's 366 Best Colleges in 2020. And, over the years, he has demonstrated his ability to deliver results in areas such as fundraising, enrollment management, student affairs, information technology, athletics, finance and administration and governance.
While at St. Norbert, he helped guide the school to record the most diverse enrollment and student body in the school's history. He planned and chaired the "Support What Matters" fundraising campaign that focused on student learning and doubled the size of the institution's endowment. In total, the school's endowment is up 85% since he took over as president in 2017.
During his tenure, St. Norbert also expanded its academic offerings – including data analytics, integrated studies, actuarial science, new math concentrations and a revamped MBA, as well as pathway partnerships for post-baccalaureate programs.
While at St. Catherine, he played a vital role in the efforts that helped the school achieve 17 consecutive years of record enrollment.
"The leadership capabilities and strategic direction that Brian brings will enable us to implement our vision of strong integration – an innovative new model of governance in higher education," said LeAnne Stewart '87, Chair of the Councils of CBS and SJU. "A model that enables the development of a plan for the future that will provide our students with the experience that will change the lives of Saint Ben's and Saint John's for decades to come.
"Brian already has a deep appreciation for our unique offerings as a college for women and a university for men. Building on each other's distinctiveness while strengthening our partnership – that's what Strong Integration is all about.
A native of Monroe, Wisconsin, Bruess earned degrees in sociology and psychology from St. Norbert in 1990. He went on to earn master's and doctoral degrees at Ohio University, where he later held various leadership positions. before being hired at Sainte Catherine.
"Brian typifies the perfect inaugural president," Stewart said. "He is deeply committed to Catholic higher education and the Benedictine missions of our schools. Brian also sees the incredible opportunity in this new era of school leadership that he already knows very well. Its impact will be profound.
Bruess and his wife Carol Bruess, Ph.D. have been married for 30 years and have two grown children – Tony, a Stanford University graduate, and Gracie, a senior at Loyola Marymount University in Los Angeles. Carol Bruess is professor emeritus of communication and former director of family studies at the University of St. Thomas in St. Paul, Minnesota.
Most recently, she was a resident scholar at the Cassandra Voss Center in St. Norbert.
"Given the mission – Benedictine, Catholic, liberal arts, residential and unapologetic about the holistic development and nurturing of principled women and men – this is a professional opportunity I couldn't resist" , did he declare. "I look forward to getting to know and learn from all of the incredible people who make up these two distinguished communities.
"Strong integration will further strengthen already deep ties while preserving each school's core mission as a college for women and a university for men. With all of us working together, Bennies and Johnnies will continue to write limitless new chapters of our shared history in the years to come.