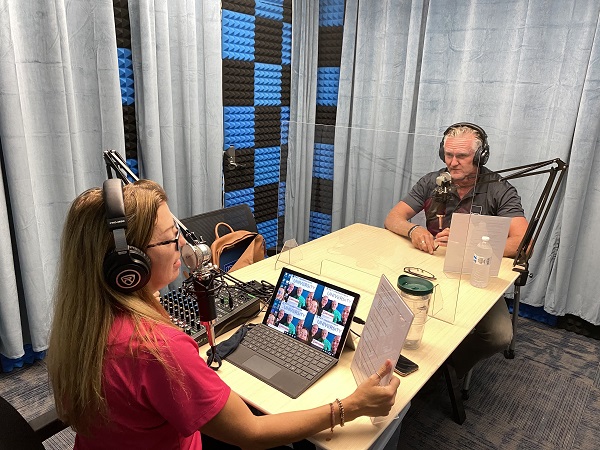 PGTI University Releases 50th Podcast Episode
PGT Innovations recently announced that PGTI University, the company's customer-focused training team, celebrated the 50th episode of its Clear Impact podcast. The Clear Impact podcast is currently streaming on music streaming services including Spotify, iHeartRadio, iTunes, and more.
In May 2021, PGTI University developed The Clear Impact podcast to educate dealers and building industry members on a variety of topics. Series topics to date have included Introduction to PGTI, Windows and Doors 101, Running a Successful Business, and Tomorrow's Workforce. The team recently launched its 50th episode, Innovations – Past, Present and Future.
Several episodes feature interviews with members of PGTI's C-suite and executive team where executives share their perspective on legal issues, finance, and market trends. Various other topics include Keys to Leadership and Future Business Goals with President and CEO Jeff Jackson, Creating a Healthy Company Culture with Director of Human Resources Debbie LaPinska, and Keys to technology with VP of Information Technology Steven Colopy. The final set of topics, Innovations – Past, Present and Future, began with an interview with PGT Innovations Co-Founder and Chairman of the Board, Rod Hershberger.
"At PGT Innovations, we are always looking for innovative ways to serve our reseller partners," says Jackson. "The Clear Impact Podcast provides us with a unique opportunity to support our dealerships' business operations in more than just providing exceptional products, and many episodes also provide valuable content to help other construction industry professionals. "
A series of topics in the podcast discuss best practices for companies to recruit full-time talent and interns, as well as proven methods for retaining employees. This specific series provides a more in-depth look at PGTI's internship program and shares information on how other companies can use similar strategies to recruit talent for their own internal structure.
"Beyond the benefits this podcast provides to our customers, I am incredibly proud of the team at PGTI University for starting the first podcast from a window and door manufacturer," says Jackson. "It also helps PGT Innovations continue to be a leader for the collective good of the entire fenestration industry."
PGTI University will continue to add new episodes to the existing podcast series on a weekly basis and plans to introduce new topics throughout the year.