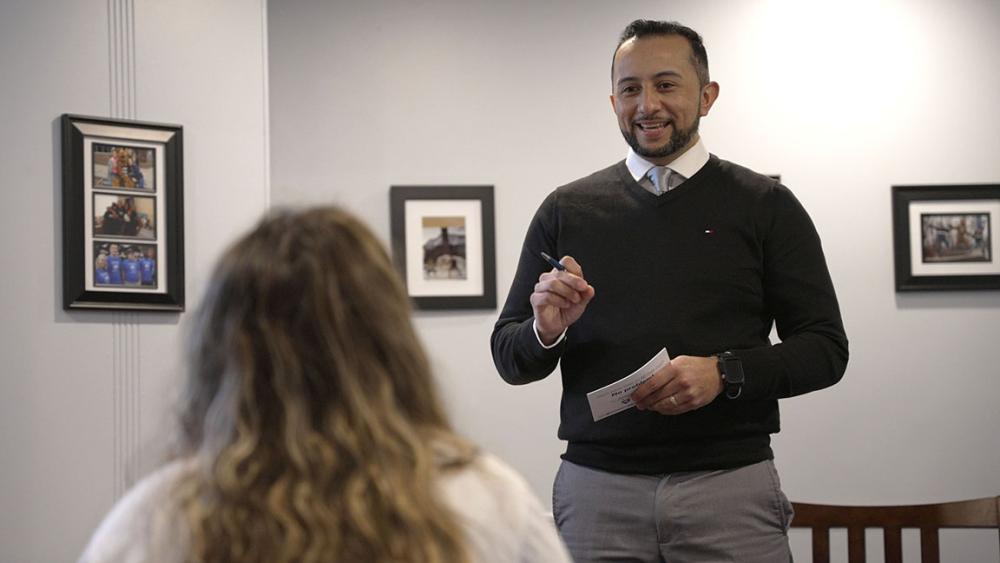 Penn State Hazleton develops relationships within the Spanish-speaking community
"Spanish at work"
Penn State Hazleton's Spanish at work gave faculty, staff and community members the opportunity to learn vital Spanish conversation skills. For Wright, conversations in Spanish, even the smallest interactions, can go a long way in developing relationships between Penn State Hazleton and the surrounding community, she said.
"We know that when students and their families come to campus, we start to see that the student speaks very good English, but their family members may need some help and could benefit from being able to communicate. in Spanish," said the Chancellor. "So if my team can communicate with them in a conversational way, and we can back it up with access to those who are proficient in Spanish or translation services, it helps our community, prospective students and their families feel better received."
In the beginning, Spanish for the Workplace was offered by the University to companies for their management staff or anyone wishing to take the course. Eventually, however, faculty and staff not only at Penn State Hazleton, but also at Penn State Wilkes-Barre and Penn State Scranton, became more interested in the course. From these campuses, more than 30 people have joined the Spanish in the Workplace program and started taking classes.
Debra Conway, Director of Continuing Education, was tasked with overseeing the organization of new programming for campus staff and faculty classes. Conway worked with the instructor to develop a program and two sessions are offered over the summer.
Conway explained that the success of Spanish in the Workplace has come from a key feature of the program: the versatile and adjustable curriculum of the class allows University employees who take the course to learn things different from company employees who also take the course.
"The instructor can customize the program. If you come with a particular need and you share it with her, she will help you solve it so you can do that communication in Spanish," Conway said.
Participants are not fluent in Spanish, but they are taking important first steps to becoming more aware of and understanding a different language, Conway said. So far, they have expressed that they find the course useful.
"I did a poll, and everyone comes back saying it's absolutely wonderful," Conway said. "They are learning a lot in this class now."
Conway said the importance of the program is that it brings the community together and gives people the tools to foster new relationships or strengthen those established through Spanish.
"There are a lot of people who want to read Spanish or speak even a little bit of it, and they don't know where to go," Conway said. "Penn State Hazleton can meet that need and we can provide these low-cost training programs for individuals, and they can develop their skills."
Hispanic Heritage Month and Latinx Heritage Club
Penn State Hazleton has put a lot of thought and effort into the upcoming celebration of Hispanic Heritage Month this fall, with programming designed to help reach students and teach them more about Hispanic heritage.
Rob Knight, Associate Director of Student Services and Engagement, currently co-chairs the planning committee for this year's celebration. Knight explained that Penn State Hazleton's goal was to help educate the local community about all heritage, but with the demographics of the community, Hispanic Heritage Month has become very important.
"The Hispanic population in the local community of Hazleton is large and growing significantly," Knight said. "So that's the main reason why we put a lot of attention and effort into Hispanic Heritage Month."
Knight explained that the programming and activities are intended to help build and strengthen a relationship between students and Penn State Hazleton. This relationship increases retention and helps give students a sense of belonging.
"It comes down to retention," Knight said. "If people don't see themselves in what the university or campus is doing, they're not going to stay there. To have a strong relationship with our students, we have to keep them. To keep them, we must represent them, their ideas and their values. We need to make sure our programming is what people want, even if it's out of our comfort zone because we've never done it before. It's a matter of trust and understanding; the student must trust the University and the University must understand the student.
Hispanic Heritage Month runs from September 15 to October 15. Already, Knight and the planning committee have begun their work. The committee is tentatively planning the completion of the new Center for Multicultural Engagement, which is currently under construction and expected to open later this month. Additionally, Knight said he would like a group of college students to read the play "West Side Story", watch the 2021 film, and tour the New York area where the film was set. The story has a lot of themes about Hispanic heritage and deals with discrimination and race, Knight explained. As the month approaches, the committee will continue to organize the various events that will take place.