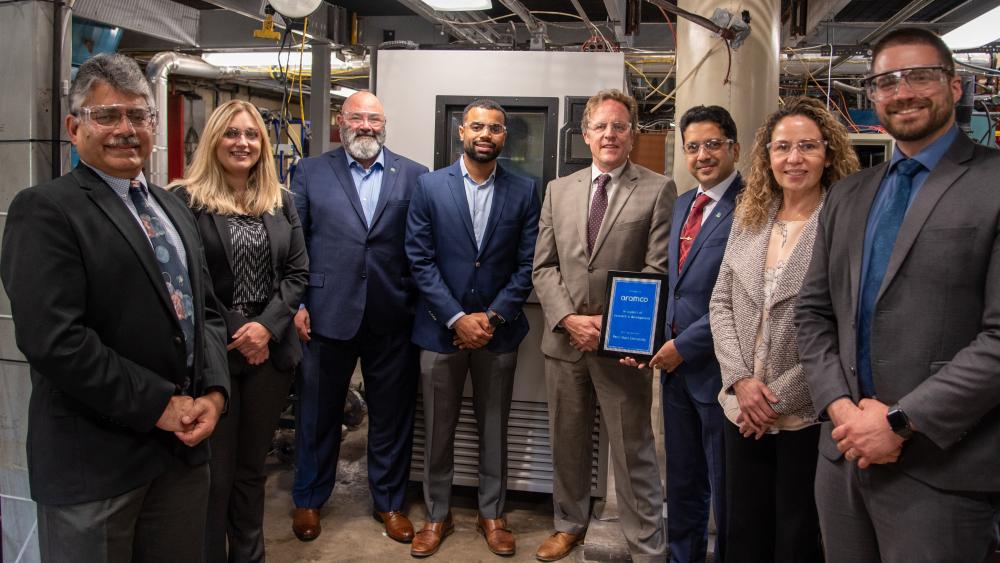 Penn State and Aramco Commemorate In-Kind Donation and Continued Partnership
UNIVERSITY PARK, Pennsylvania – A recent donation of a Thermotron humidity chamber from energy company Aramco Americas will support numerous research projects at the College of Earth and Mineral Sciences (EMS).
Aramco Americas, headquartered in Houston, Texas, operates research centers in Houston, Boston and Detroit.
The story of Penn State's partnership with Aramco Americas begins with the launch of its scholarship program in the 1980s, long before this recent donation. Each year, Aramco's highly selective program sponsors more than 160 Saudi students to study science and engineering at Penn State. With nearly 50 women in the current cohort, the program also aims to increase gender diversity in male-dominated fields.
Lee Kump, John Leone Dean of the College of Earth and Mineral Sciences, said the business collaborations contribute to the overall success of both institutions.
"Together, Penn State and Aramco are ensuring the next generation of scientists and engineers have the resources they need to solve society's most pressing problems. Both the sponsored student program and this gift demonstrate Aramco's strong commitment to building a talented workforce ready to meet these challenges.
Inside the thermotron
Humid chambers like the Thermotron SM-16-2-2-8200 regulate both temperature and humidity in a confined environment. For Randy Vander Wal, professor of energy and mineral engineering, materials science and engineering, and mechanical engineering, the chamber will help research into cementitious materials. Specifically, the chamber will play a role in the "hardening" or hardening of cementitious materials containing carbon additives. Adding carbon to these materials makes them stronger and less porous, two important qualities in a wide variety of industries, including oil and natural gas and construction.
These same industries are also concerned with the effect of humidity on the deterioration of rock formations containing clay. By studying deterioration rates at different humidity levels using the humidity chamber, Shimin Liu, associate professor of energy and mineral engineering, provides insights that will help increase the stability and longevity of civil structures.
Jonathan Mathews, professor of energy and mineral engineering, will use the equipment to study another type of geological material: coal. Mathews, along with a team of graduate and postdoctoral researchers, is studying the ways in which water, a structural component of coal, influences the mechanical properties of the fuel source. A humidity chamber provides a controlled environment in which to monitor and explore these processes.
For Kump, the humidity chamber is more than an addition to a lab.
"This kind of large-scale, impactful research is a key part of our mission to advance science and engineering for the good of society," he said. "By providing valuable equipment, Aramco is helping us do just that."
Visit the university park
On May 13, representatives from Penn State and Aramco Americas gathered to commemorate the installation of the wet chamber, now housed in the C211 Coal Utilization Lab (CUL) on Bigler Road. Its new home on the University Park campus includes a series of labs at the Institute of Energy in the College of Earth and Mineral Sciences.
Aramco's visitors included Wajih Malibari, Administrator of the Academic and Technical Programs Division; Tim Torre, University Internship and Vocational Training Supervisor; and Fahad Aljabry, Human Resources Advisor for University Placement and Vocational Training. The visit included signing a memorandum of understanding with Roger Brindley, vice president of Penn State Global, to solidify a credit transfer policy for Saudi Aramco-sponsored students taking advanced high school placement courses. Aramco's journey ended with the dedication of the wet chamber with Dean Kump at CUL.
"Aramco Americas is thrilled to be able to make this gift to our longtime partner," said Malibari. "Penn State's excellence in education has been an asset to our students, our company, and the community beyond."
"The support of international partners like Aramco Americas strengthens our ability to achieve our shared goals to improve societies here in the United States and around the world, and creates opportunities for Penn State students and faculty to have global impact," Brindley said. "There are few limits to what we can achieve when we work together."
With the record-breaking success of "A Greater Penn State for 21st Century Excellence," which raised $2.2 billion from 2016-2022, philanthropy helps maintain the University's tradition of education, research, and service to communities across the Commonwealth and around the world. . Scholarships enable our institution to open doors and welcome students from all walks of life, support for transformative experiences enables our students and faculty to realize their vast leadership potential, and donations toward discovery and excellence help us serve and influence the world we share. To learn more about the impact of donations and the continued need for support, please visit raise.psu.edu.
About Aramco Americas
Aramco Services Company (d/b/a Aramco Americas) is the U.S. subsidiary of Aramco, a global leader in integrated energy and chemicals, and has had a presence in the United States for more than 60 years. Aramco Americas contributes to the US energy sector through research and development, venture capital fund activities, asset ownership, and technology and digital transformation. The company is headquartered in Houston with offices in New York, Washington DC, Boston and Detroit. Aramco Americas is committed to being a positive contributor in the communities where its employees live and work, and to making a difference through outreach that benefits the arts, geosciences, education and the environment.