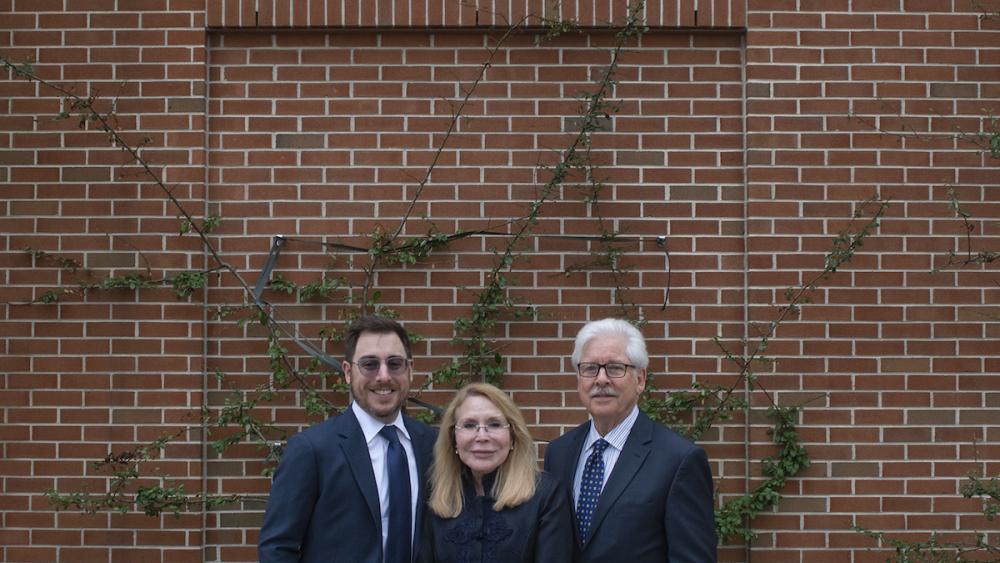 Madlyn Hanes Honored at Harrisburg Library Naming Ceremony
UNIVERSITY PARK, Pa. — On March 24, Penn State honored recently retired Senior Vice President of Commonwealth Campuses and Executive Chancellor Madlyn Hanes during a Madlyn L. Hanes Library Appointment Ceremony at Penn State Harrisburg . Last summer, before Hanes officially retired after a 33-year college career, Penn State's board of trustees announced the name of the library, effective July 15, 2021.
The naming ceremony, held onsite at Penn State Harrisburg, was attended by university and campus leaders, including President Eric J. Barron, Vice Chairman of the Board of Trustees David M. Kleppinger, and Chancellor of Harrisburg John M. Mason, among others. academic and community representatives.
"Penn State's Commonwealth Campuses are at the very heart of fulfilling the University's land-grant mission and exist to support Penn State's long-standing commitment to making higher education accessible and affordable" , Barron said. "Libraries play an equally crucial role in society, providing a pathway to knowledge and lifelong learning. The Madlyn L. Hanes Library will give faculty and students the tools and access to explore the world. I am thrilled that Madlyn's legacy will live on in perpetuity in the Madlyn L. Hanes Library at Penn State Harrisburg.
"Madlyn's commitment to the Commonwealth and Penn State campuses went far beyond her official roles and responsibilities," Kleppinger added. "She has made Penn State her life's work, and she has worked constantly to ensure that everyone at our institution understands the vital importance of our campuses across Pennsylvania."
Hanes served as Chancellor of Penn State Harrisburg from 2000 to 2010 before her appointment as chief academic and administrative officer of the University's 20 Commonwealth campuses. She has held a variety of leadership positions since joining the University in 1988, including as County Academic Director of Penn State Delaware, now Penn State Brandywine, and as Penn State Great Valley General Manager and Founding Director. of his school. professional higher education.
"Dr. Hanes has long been recognized as a champion of Commonwealth campuses, their students and their communities," Mason said. "Penn State Harrisburg has been privileged to have him at the helm, guiding the college through a period of significant transformation and unprecedented growth. It is fitting, therefore, that today we can recognize Dr. Hanes' many contributions not only here on our campus, but throughout Pennsylvania. It is a legacy of service that will benefit generations to come.
Under Hanes's leadership, Commonwealth campuses, which enroll approximately 27,000 students, added a significant number of high-demand bachelor's degree programs to meet regional student and career needs, instituted a differentiated tuition structure to reflect demographic circumstances of local areas and student resource needs and developed new institutional partnerships and articulation agreements to increase access to admissions. The campuses have also launched 21 Innovation Hubs that help advance entrepreneurship and stimulate economic activity in Pennsylvania communities; makes significant investments in research, technology and facility infrastructure; and a substantial increase in aid for institutional students.
Hanes received a Bachelor of Arts in English Education, a Master of Arts in Speech Language Pathology, and a Doctorate in Curriculum and Instruction, with a focus in language and literacy development, all from the University of Florida. She also holds a Certificate of Clinical Proficiency in Speech-Language Pathology from the Professional Services Board of the American Speech-Language-Hearing Association. In 2008, the University of Florida honored Hanes with its Distinguished Alumnus Award.
Hanes has served as a consultant to Ministries of Education and Councils of Higher Education in Puerto Rico, Ecuador, Israel and Korea, and she was appointed to the University Council of Jamaica by the country's Prime Minister. She served as Policy Research Fellow in the Office of Educational Research and Improvement of the United States Department of Education and Senior Advisor to the Chancellor of the University System of Georgia, where she oversaw the management review of its 34 institutions in collaboration with the political office of the governor. . She is past president and current member of the executive council of the American Council on Education's Women's Network, and co-chaired the council's Moving the Needle: Advancing Women in Higher Education Administration initiative. She has also served on the board of directors and served as vice-president of the Council for Higher Education Accreditation.
"Penn State Harrisburg Library and I share the story of the college's evolution," Hanes said. "It got its start at the same time I made mine in 2000 as the new chancellor. The library building served as an anchor that not only helped define the heart of the campus, but it also began the complete physical transformation of the campus from a cluster of classroom buildings into the strong university community it is today – a sense of place it has long deserved to have. Libraries are the heart of college life and places to learn for the sake of learning.To have my name associated with the Penn State Harrisburg Library – connecting me to Capital College in perpetuity – is a deeply personal honor.
The Madlyn L. Hanes Library, which comprises three floors and 115,000 square feet, is an academic research library with 300,000 volumes and 1.3 million microforms. Following the announcement of the nomination, Hanes and her husband, Michael L. Hanes, established the Madlyn L. Hanes and Michael L. Hanes Library Endowment, and supporters were invited to donate to the fund in the name by Madlyn Hanes. Those interested in supporting the endowment can contact Penn State Harrisburg Acting Director of Development and Alumni Relations Noah Roufos-Abbey at [email protected]
Donations to support the Madlyn L. Hanes and Michael L. Hanes Library Endowment will advance "A Greater Penn State for 21st Century Excellence," a targeted campaign that aims to elevate Penn State's position as a public university of foreground in a world defined by rapid change and global connections. With the support of alumni and friends, "A Greater Penn State" seeks to fulfill the three key imperatives of a 21st century public university: keeping the doors of higher education open to students who work hard, whatever regardless of their financial well-being; create transformative experiences that go beyond the classroom; and impacting the world by serving communities and fueling discovery, innovation and entrepreneurship. To learn more about "A Greater Penn State for 21st Century Excellence," visit greaterpennstate.psu.edu.