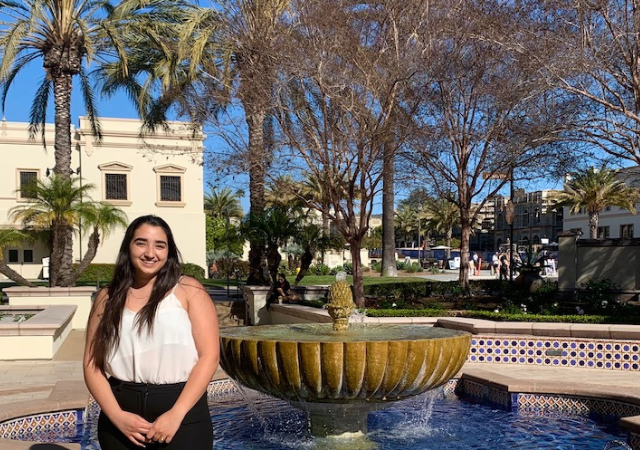 Laying the foundations for a multicultural business community
For Christina Abdou, even the task of selling cookies as a young Girl Scout has become a family affair with her mother, father and two younger sisters banding together to sell these iconic Girl Scout cookies. His mother even implemented a new sales tactic: selling four boxes for twenty dollars. The cost per box remained unchanged, but this small tweak in language sent sales skyrocketing!
Community search
Raised in a close-knit family unit, Christina grew up understanding the intrinsic value of community. This sense of community, connection, and support is something she continues to seek in new opportunities, and now she leaves a legacy of community right here at the University of San Diego.
As a senior at USD studying Business Administration and Real Estate, Christina is an active member of the Real Estate Society and Entrepreneurship Club, where she began connecting with niche student communities on campus. She is also preparing to enter a national college sales competition this month with the Knauss School of Business sales team.
It's clear that Christina is determined to make the most of her SUD student experience, but before she graduates in May, there's one more project she felt compelled to take on before launch into the so-called "real world". And it's spearheading a new community for business students – one that encourages students to fully express their cultural identity and also teaches them the role that identity and cultural norms play in business interactions.
The multicultural perspective
As a first-generation American whose parents emigrated from Palestine, Christina learned to understand the complexities of practicing Middle Eastern cultural traditions at home while applying American norms in school and work.
"My first language was Arabic and I was very involved in my culture and its community. Being at USD has really highlighted for me the differences between American culture and the culture I grew up with. I realized there were things I would do with my Middle Eastern friends that I wouldn't do with my American friends," Christina explains.
Christina's mother once explained to her the concept of a melting pot society as opposed to a 'tossed salad' community – a concept that really resonated with her. In a melting pot society, people assimilate into the dominant culture. In contrast, in a 'mixed salad' society, individual cultural identities are preserved while being part of a larger national identity. As she met new friends at SHU from multicultural backgrounds, it was this last concept that Christina kept in mind.
"I started learning about other cultures in my business courses such as global marketing. And I've met friends here at USD who are from other countries or are first-generation Americans and they shared with me their stories about their cultures and their experiences in multicultural environments," Christina said.
In the spirit of creating a space where individual identities are celebrated both in the classroom and in business, Christina founded the Minorities in Business student club. The club has two goals: first, to educate students about cross-cultural exchange in business and, second, to celebrate the cultures of their peers here at the Knauss School of Business.
Minorities in business: a new club on campus
Last semester, Christina began laying the groundwork for Minorities in Business. She got the club's staff advisors, Maya Sykes and Gelsey Thomas, both of whom are responsible for student professional development at the Knauss School of Business' Student Success Center. She registered the club with Torero Orgs and introduced it to that spring's Alcalá bazaar, where she quickly got in touch with many interested students.
What surprised her was the diversity of students who wanted to know more. Not only were business students eager to join, but psychology majors, political science majors, and graduate students also asked Christina what the club was about and how they could get involved. Although the club focuses on cross-cultural interactions in the business world, students from all majors and backgrounds are welcome, especially those who feel their identity is underrepresented in business.
Although Christina graduated before seeing the club operating with a full roster of members, she is already looking forward to returning to campus next year as an alumnus to support the club in any way she can.
Before leaving USD, there are a few more things she hopes to accomplish with Minorities in Business. His first priority is to work with club advisors and board members to define a clear mission and develop a solid structure from which the club can grow. She is also speaking with faculty in hopes of hosting an event for students this semester with a panel of faculty who will speak about cross-cultural communications and interactions in business.
Christina's grand vision for the club is for it to be an affinity group or resource group for employees in a company, where these groups help employees develop tight-knit communities and support systems within their workplace. a larger organization.
"My ultimate goal for the Minorities in Business club is for us to help SUD become an even more inclusive and welcoming campus and become a community that helps students feel connected and supported in business."
USD students interested in joining Minorities in Business can register here.
—Gabrielle Horta