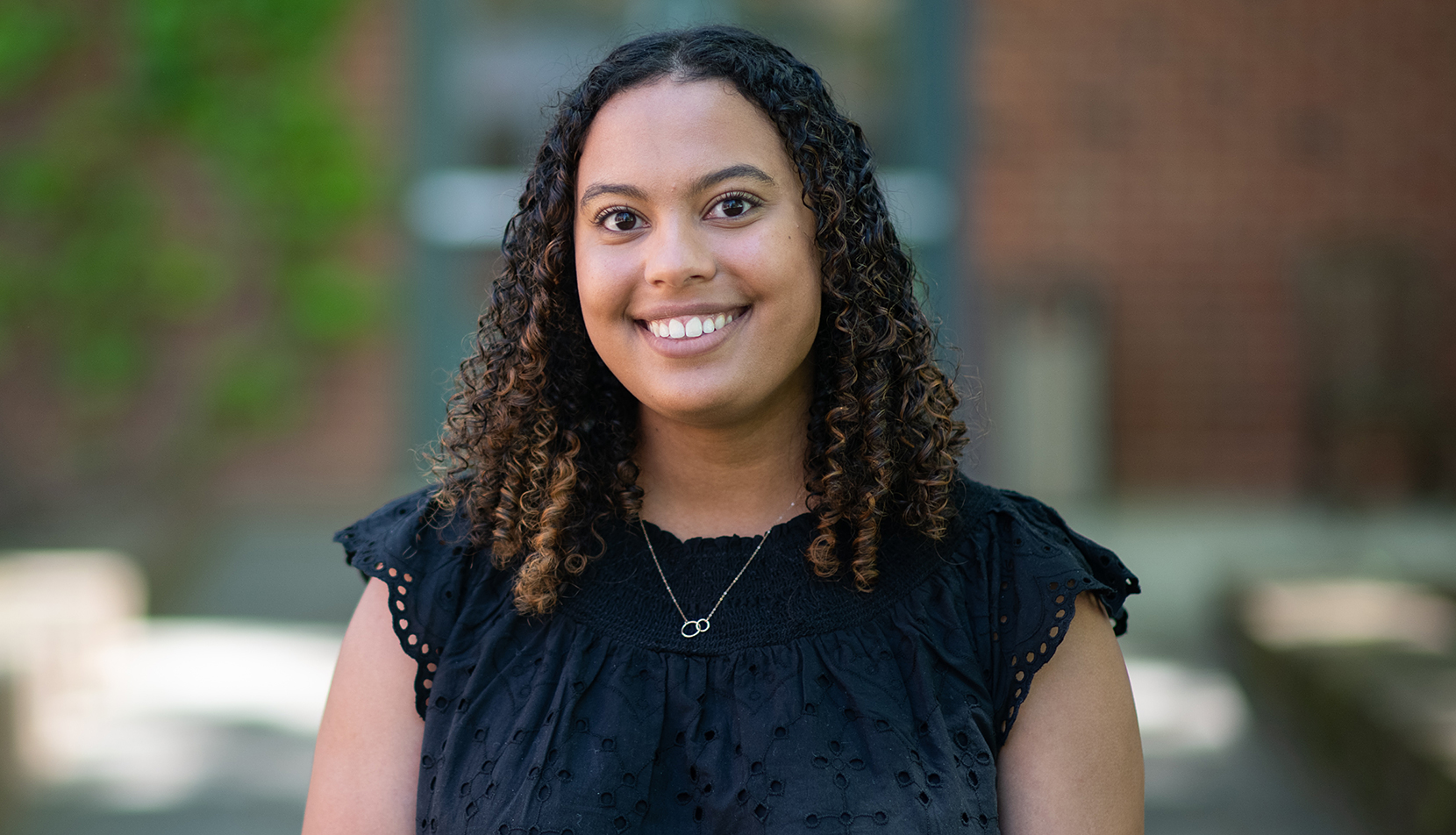 Jordan Kijewski '24 Bridges Generations
Before joining University of Virginia Law School, 24-year-old Jordan Kijewski helped underrepresented high school students apply to college and "adopted" a grandmother who became a close friend.
Kijewski, a native of Haymarket, Va., studied US government and American politics and studies as an undergraduate at UVA.
While in law school, she is a historian for the Black Law Students Association, a board member of the Virginia Journal of International Law, a law school ambassador, and a research assistant to Professor Kimberly Jenkins Robinson.
On our occasional "Star Witness" series, Kijewski discussed volunteering for Madison House at UVA, working for AmeriCorps, and why his criminal law class was so meaningful.
Why law school?
Most of my legal knowledge before I started at UVA Law was shaped by my parents, who both worked as lawyers. From a young age, I remember hearing their stories at work and thinking that law was a field that could help more people than I could fathom. It was immediately appealing. My parents gave advice whenever someone they knew had a legal question, and I remember wondering why something as pervasive as the law remained so confusing to so many people. If we are all bound by the law, shouldn't we all understand its rules? I remained curious about the law and how it influences our society – specifically, the differences in how people from diverse backgrounds interact with the law. I am sure that my time at UVA Law will help me answer this question and shape my own vision and interaction with law in the future.
What have been some of your most rewarding experiences as an UVA undergraduate?
By far, the most rewarding experience I've had as an undergraduate student at UVA has been my work with the Outreach Student Advisory Board, a joint student-faculty council that worked to make the fairer college admission and AVU more accessible to students from all backgrounds. Working under former Dean Valerie Gregory taught me a lot about higher education and how to advocate for real change within seemingly rigid structures. I was able to work one-on-one with prospective students and their families to plan and acclimate to university life, as well as to advocate for University-wide changes in admissions and orientation methods .
The funnest extracurricular activity I've been involved in was Madison House's Adopt-a-Grandparent program. Each week, my group would visit a local retirement home and spend the afternoon with our resident partners. My "adoptive grandmother" and I have read together, worked on puzzles, and even had a joint Halloween costume together. (I was Serena Williams – our favorite athlete – and she was a tennis ball, dressed in a bright yellow outfit!) The program was designed for students to spend time brightening up the days of local seniors, but our weekly conversations are some of my fondest memories of my time at UVA. I certainly benefited enormously from his influence.
Tell us about your time with AmeriCorps.
Between college and law school, I served as an AmeriCorps member in the Virginia College Advisory Corps, a local branch of the National College Advisory Corps. The goal is to increase the number of low-income, first-generation, and underrepresented high school students entering and completing higher education. During my service, I was placed in a high school in Richmond, Virginia, and assisted over 700 students with the college application and financial aid processes, advised on research jobs and careers and assisted with military enlistment. I was also an athletics coach!
My two years with AmeriCorps have been challenging and rewarding in many ways. Getting into a school that didn't have a particularly strong academic culture and trying to change that culture was definitely the biggest challenge. Many of my students felt defeated before the process even began, but dedicating time and personalized attention to each student and their families throughout the year encouraged and motivated them to complete and submit applications. admission to college and a job, gaining confidence along the way. Some of the methods that my co-teacher and I implemented are still used at the school today, and it is extremely gratifying to recognize that our hard work continues to make application processes more accessible to students.
During the second half of the year, most students in the senior class were more excited than nervous about college and the next chapters in their lives. A few of my students even got full scholarships to their first-choice schools, and I keep in touch with many of them.
Describe your most interesting law school experience.
I don't think a single experience really defines my law school experience so far, but the courses I've taken have already been hugely influential in how I think about past, present, and future legal landscapes. Taking Professor Anne Coughlin's criminal law course at a time when landmark national cases like those of Derek Chauvin and Kyle Rittenhouse stimulated a unique kind of engagement with the law. I'm extremely grateful to the teachers I've had here who use contemporary debates and events to enhance classroom discussion, and my criminal law class certainly did that in a way that broadened my worldview. .
I have also had several opportunities to learn from eminent lawyers and jurists whom I admire. A lunch with Judge Stephen Breyer and a roundtable with Steve Schleicher – the chief prosecutor in Derek Chauvin's trial – are two experiences that I will carry with me throughout my life and career.
What don't your classmates know about you?
I like running! My older sister and I have run the Charlottesville Ten Miler together a few times over the years, as well as a half marathon. This year at the race, I met my supervisors from my AmeriCorps position as well as Professor Naomi Cahn. We even ran together for a while!
What's next for you?
This summer I am working in the Department of Labor assisting Professor Kimberly Robinson with her research for her upcoming publications. I've always been curious about regulatory work, and a previous internship with the Department of Justice's Civil Division really solidified that interest for me. After graduation, I hope to pursue a career in private practice in antitrust mergers and acquisitions, hopefully on the East Coast near my family.
But, just as important, I hope my law degree will allow me to move around the world as a more educated and informed member of society. I still hope to use my law degree to support advocacy for underserved, marginalized and vulnerable communities in better and more productive ways.