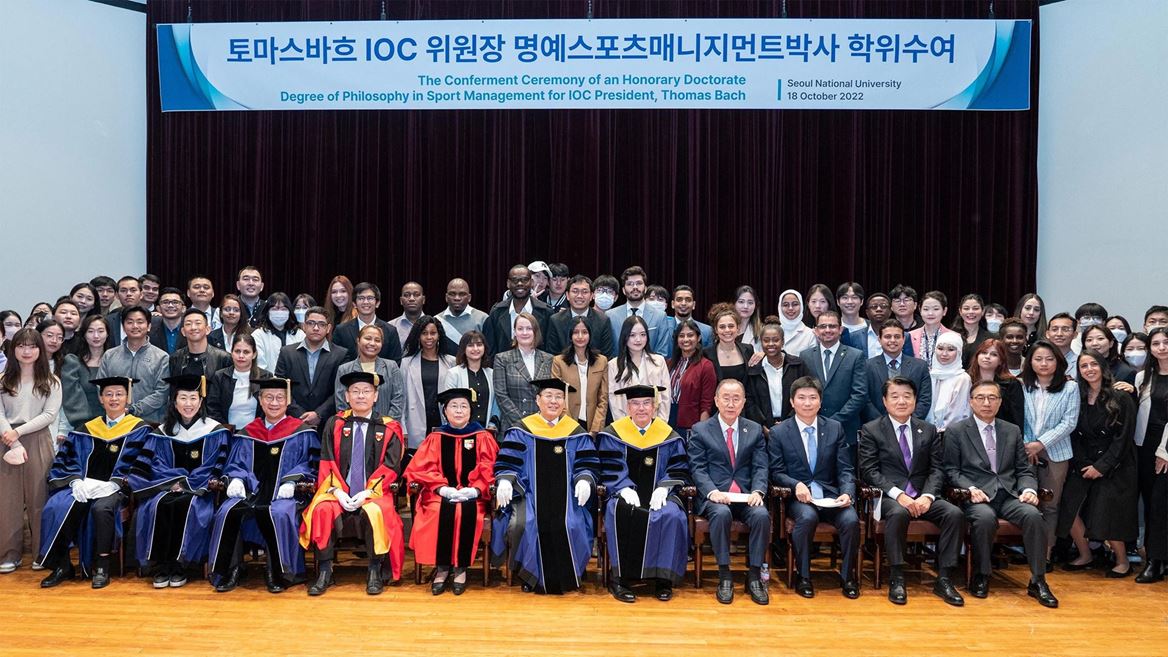 IOC President Thomas Bach receives honorary doctorate from Seoul National University
October 18, 2022 – In a ceremony at Seoul National University, Bach, President of the International Olympic Committee (IOC) today received an honorary doctorate from its president, Oh Se-jung. The honorary doctorate was awarded in recognition of his "dedication to creating a peaceful and better world through sport".
In the citation, the University President noted President Bach's "outstanding achievements in the field of sport and outstanding service to humanity." He also highlighted the "pioneering efforts made to protect refugees".
Oh continued, "He founded the Refugee Olympic Team in 2015 and has supported athletes in various ways to continue training and competing in the Olympics in all situations, including war." Oh also noted that President Bach "has spearheaded global support for the Ukrainian Olympic Committee, while once again raising awareness around the world about the importance of peace and human rights."
The citation also noted the IOC President's successful efforts to "enhance the sustainability of the Olympic Movement, presenting a strong reform agenda and setting moral example while driving innovation in the international sports community."
In a congratulatory "laudatio" speech by former United Nations Secretary-General Ban Ki-moon, President Bach was described as an "authentic bridge builder, innovator, humanist and citizen of the world". Mr Ban, who is also Chairman of the IOC Ethics Commission, went on to praise the President's peacebuilding efforts: "He was instrumental in achieving a historic breakthrough as athletes North and South Koreans marched together and competed alongside each other as one team under one Korean Peninsula flag, at the Olympic Winter Games PyeongChang 2018."
Accepting the award, President Bach said: "This honor belongs to the entire IOC and the entire Olympic Movement. Because without the support of so many around the world, our Olympic mission to make the world a better place through sport could never be accomplished.
President Bach also recognized the work of the former UN Secretary General. "So many of the initiatives that have been mentioned are actually inspired by him. This applies in particular to our Olympic Agenda 2020+5 reforms, which strive to live up to the role that the United Nations General Assembly has assigned to sport: to be an important catalyst for achieving the goals of sustainable development of the United Nations, of which he was the architect."
Seoul National University awards the Honorary Doctorate of Sports to recognize excellence in sports and honor outstanding service to humanity. In its entire history, Seoul National University, the nation's most prestigious, has awarded just over 100 honorary doctorates.