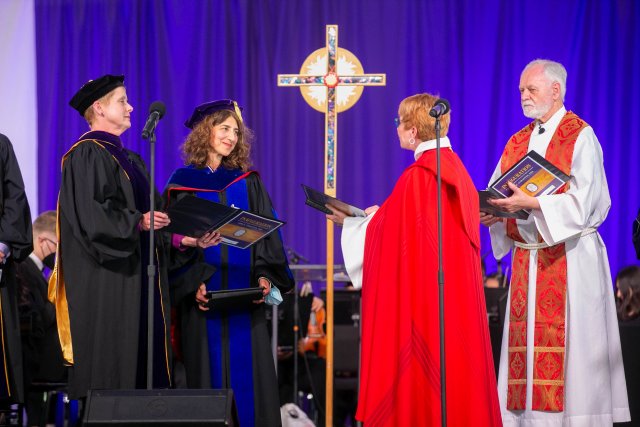 Gather | California Lutheran University
Academic, spiritual, and ceremonial events celebrating President Lori E. Varlotta, PhD's inauguration—delayed by the pandemic—provided an opportunity to reaffirm her vision for campus.
Cal Lutheran is transitioning to a future-focused, faith-based institution that celebrates diversity and academic excellence in a way that prioritizes Lutheran values ​​of grace, generosity, inclusiveness, and service to others, a said Varlotta in an inaugural speech. Here, students, faculty, and staff are encouraged to explore and navigate the "messy middle" that lives between the two extremes on any spectrum.
By shining a light on and examining the 'messy middle', the 61-year-old university will help students hone the critical and creative thinking skills that are increasingly important in a world marked by extremist rhetoric and polarization.
"If we can block the construction of echo chambers, Cal Lutheran will stand out from most universities – even the elite ones – around us," said Varlotta, who began serving as president in September 2020. .
Most of the inaugural events took place the week of February 22-27 inside a large tent built on campus to keep activities as safe as possible during the ongoing COVID-19 pandemic.
The festivities kicked off in a fun way on Feb. 12 with a 5k run/walk with Varlotta that meandered through the Cal Lutheran campus. More than 150 runners and walkers participated, from people running at full throttle to families with strollers, said Varlotta, a dedicated runner.
Dozens of student volunteers along the route encouraged participants, played music and provided water. The soccer team created a tunnel for people to run through.
On February 17, a Faculty and Staff Evening with the President brought faculty and staff together for fun and fellowship. Attendees were treated to food, drink and entertainment, including giant Jenga and Cornhole games.
Then, from February 22 to 24, there was an all-night celebration of academic excellence at Cal Lutheran. Fifteen professors and two dozen graduate and undergraduate students presented academic research and scholarship on a range of topics. All Cal Lutheran schools and programs were represented in fields as diverse as chemistry, exercise science, psychology, film and television.
Among the professors who made presentations was Lorena Muñoz, PhD, associate professor and director of the Ethnic and Racial Studies program. She spoke about Cal Lutheran's commitment to diversity, ethnicity and inclusion, and why ethnic and racial studies programs are important. Michael Panesis, MBA, Executive Director of the Steven Dorfman Center for Innovation and Entrepreneurship, presented a fellowship on "Liberal Starts: The Beneficial Relationship Between the Liberal Arts and Entrepreneurship".
Each evening began with a poster exhibition demonstrating undergraduate and graduate research in the students' respective majors. The presentations demonstrated that research takes place not only on campus, but also in laboratories and in the field all over the world, including Switzerland and Central America.
"You can choose your research project or your academic adventure, from very scientific and technical to artistic and musical presentations," said Regina Biddings-Muro, EdD, vice president of academic advancement, chair of the 14 subcommittees of faculty and staff who worked to bring the inaugural events to fruition, including the Showcase of Academic Excellence.
"Faculty and staff really showed up," she said. "It's really out of love for the institution and support for the mission. Yes, it's about ushering in new leadership, but it's also an opportunity for the university to show what an awesome place it is.
The inaugural events ended with a worship service — filled with prayers and personalized poems on Feb. 26 — and the installation ceremony the following day. Varlotta said she is grateful to those who planned and participated in the many activities, describing them as "the fruits of a highly collective effort". Now she is ready to use the collegial spirit and the energy of the nomination to build on her momentum.
Since her arrival, she has put in place a strategic and guiding planning process that will define the university's objectives in the years to come, from expanding the physical campus to improving student and professional experiences. She has created a robust DEI structure that works hand-in-hand with the university's identity as a Hispanic-serving institution. And she worked on the committee to set up shared governance between regents and staff, with the first election of the staff senate just months away.
Carol Chung, MA, director of graduate admissions, praised Varlotta's "charge to lead" at the inaugural events. "I've seen Varlotta work to make this happen," Chung said of adding staff to shared governance. "I can personally say that his words are backed up by his actions."
Taking Cal Lutheran to an even higher level of excellence will require everyone to be on deck, the president said in her inaugural address. And she is not unaware of the task ahead as the world recovers from a global health crisis, social unrest and major disruptions to daily life.
"At a time when so many are reeling from the impact of a fractured world," she said, "wouldn't our current and potential students and employees appreciate being part of a community that unites rather than polarizing?"
Catherine Saillant covered politics and government for the Los Angeles Times for 20 years. Before that, she was a writer and covered higher education for the Ventura County Star. She is now a freelance writer based in Newbury Park, California.