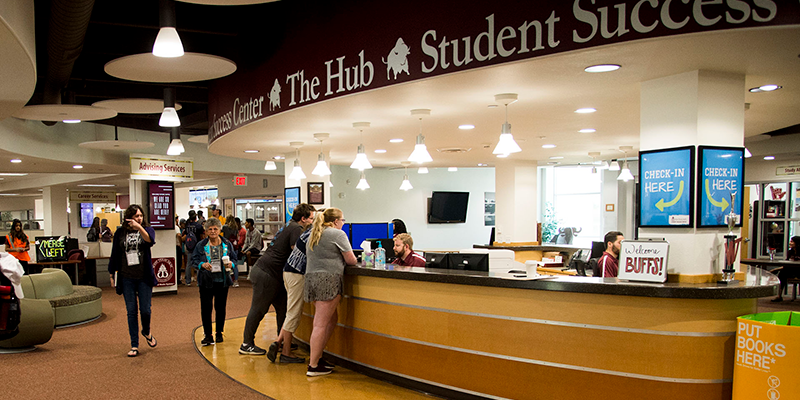 Direct admissions take off with individual colleges
A few years ago, Walter V. Wendler attended a high school near West Texas A&M University, where he is president.
The vice principal told her about a student who would do well if admitted to West Texas A&M but was convinced she "would have no chance" of getting in. Wendler met with the student and reviewed his transcript. He admitted her on the spot and she enrolled in WT, as those on campus call it.
This experience led to the creation of a program in 2018. Under this program, principals of 137 high schools in or near the Texas Panhandle are invited each year to nominate five students for automatic admission to the WT. An admissions officer reviews their transcripts, test scores (for those who have them), and class placement. Then they are generally admitted (Wendler said in one case a student was told to enroll in a community college first). He pointed out that it is in a part of the country with many small secondary schools, which allows principals to really get to know their students.
WT received 972 student applications and enrolled 234 students through the system. It has not studied the decisions of those who do not register. He plans to study how students who enroll fare compared to regularly admitted students, but says anecdotally they seem to be doing as well or better.
"There's this triangulation going on," Wendler said. "We are committed to the principals. Students have the burden of playing because of this.
He said he had mentioned the idea to other college presidents and hadn't sparked any interest. "They asked about quality control," he said.
But these universities, like his and like most colleges, admit most of their applicants. WT only rejects about 25% of its applicants.
"We place far too much emphasis on measurement" as opposed to trust managers, Wendler added.
The image above all
What makes Wendler's experiment notable is that a number of colleges and companies are experimenting with direct admissions, in which students do not formally apply to a college but are admitted nonetheless. (None of the colleges are yet using the new systems to admit most students.)
Last month, Inside Higher Education wrote about Concourse, a company that started with international students but burst into the US student market last year, focusing on Chicago. In the United States, it has focused on low-income students. Next year, it will expand to seven regions: New York, Philadelphia, Minneapolis–St. Paul, Dallas, Houston and Atlanta (while keeping Chicago). In each of these areas, Concourse will identify colleges that serve low-income students and college advisors who will certify the accuracy of what students put in their profiles. Students will not apply to colleges, but they will be admitted.
Last week, Inside Higher Education wrote about Sage Scholars, which this fall will offer its members the ability to view profiles and offer admission to students.
In all cases (and those discussed later in this article), the colleges involved are typical colleges, public and private, in that they admit most applicants. Most are not well known nationally and mainly recruit from their home country. There are arrangements which are singular, which involve a State or those which involve companies. But what they have in common is the belief that the admissions system currently used by most colleges was designed for colleges at the higher end of the prestige scales (both public and private). And they wonder who wins by subjecting all students to an arduous process.
Public-private effort in Minnesota
In Minnesota this fall, the state Department of Higher Education is making admissions happen differently for students at 50 high schools across the state. Students will have the opportunity to enroll in the system. Those who agree will have their freshman grades listed in a profile. Then, about 40 colleges will have the chance to admit them. Colleges can stipulate a grade point average range they want, or they can search by geographic area in the state. Colleges that wish may admit students.
Colleges are not obligated to participate, and some stay out of the program, at least for its first year. Carleton College and Macalester College are two of the state's private colleges that recruit nationally and are competitive with admissions. They don't participate.
At the University of Minnesota, Brad Robideau, a spokesperson, said: "Three of these campuses are well suited to and are participating in this pilot project – Duluth, Crookston and Morris. The Twin Cities Campus uses a holistic exam approach, which considers a number of factors for admissions. We will evaluate the pilot and align on how best to serve academically prepared students. »
Many other colleges are starting.
Take the University of Augsburg. Each year it admits about 2,500 students for a freshman class of 600. It has achieved good enrollment numbers in recent years. Ninety percent are from Minnesota.
But Robert Gould, Augsburg's vice-president for strategic enrollment management, said he would rather change the admissions system than just tinker with what they have now.
Under the new system, he hopes admissions decisions (for those in the new program) will all be made by October and aid packages will all be worked out by December. "Part of the mission here is to support democracy," he said. "It's about sharing power."
Admissions counselors will have more time to spend on outreach, financial aid programs and student aid rather than assessment, he said. "We are not considered a selective institution," he said. "We don't want to be either."
When Idaho did the same — admitting all high school graduates to public colleges in the state in 2016 — enrollment increased.
Common application
While many efforts to promote direct admissions come from those who want to shake up the system, one comes from the common application, which for many represents the institution in admissions. After all, the common application processes hundreds of thousands of traditional applications every year.
But the common application is moving in the direction of direct admissions – for some. Six colleges and universities are participating this year. Common App provides them with students from their states and regions. Students will have created an application through the Common Application, but may not have completed it beyond providing a transcript. But they still go receive offers of admission.
The six participating member institutions are Montclair State University, Maryland Eastern Shore University, Middle Tennessee State University, Fisk University, Marymount University (of Virginia) and the University George Mason.
As of April 24, more than 800 students have applied through the Common Application Direct Admissions program. Of those students who applied through the program, 46% are first-generation students and 48% are students from underrepresented minorities. Students always indicate whether they will enroll.
Niki Patel, who is leading the effort, calls it "a really powerful tool for students, especially those who don't have support at home or in high school."
Patel highlights some of the responses the Common App has received:
"I felt like I was wanted in a school after being rejected from my top two schools. It made me proud.
"Honestly, I felt some relief because I felt like a lot of my high school accomplishments were worth it. Honestly, I didn't think going to college was really worth it, but it showed me that I am somewhat prepared for my future.
"I felt more confident because a university contacted me for the first time. It also made me feel more academically validated because it showed me that the colleges really cared about me.