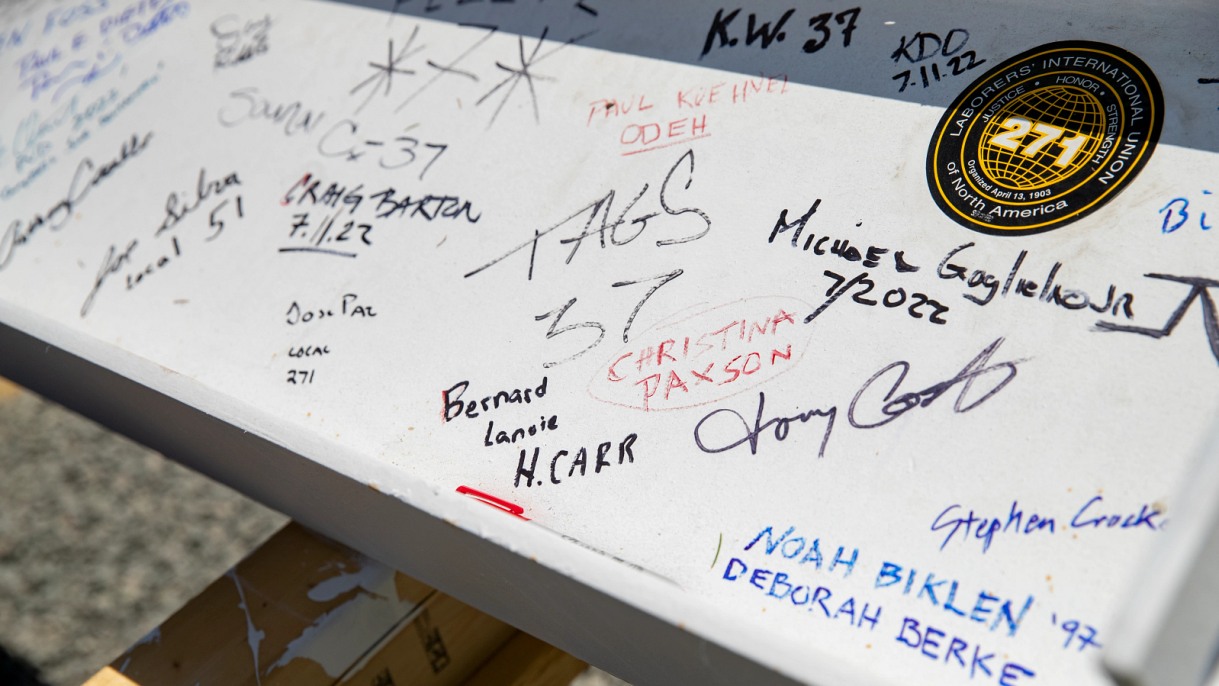 Closing Ceremony Celebrates Future Brook Street Home
The new facility will help the University meet its goal of housing 80% of its undergraduate students in dormitories or residence halls, Paxson said. Along with the housing available in the new health and wellness center and residence hall, the number of undergraduate students living off-campus will be reduced by approximately 30%.
Significant community collaboration and input shaped the final plans for the project, which include two "sister" buildings totaling 125,000 square feet that can accommodate 353 students, a publicly accessible and sustainable green space, adjacent retail space and the planned construction of a new residence.
Aesthetically, the Brook Street Residence fits into the context of the local neighborhood – similar to the adjacent Vartan Gregorian Quad and much of Brown's historic campus, the exterior will be primarily brick, terra cotta and wood, with eco-friendly crosses. glued laminated timber used in the interior structure.
These interiors, designed to meet the needs of older undergraduates while fostering a strong sense of community, will include communal kitchens on each floor, with a series of suites, each consisting of four single bedrooms, a living room and common toilets. The buildings will also include common spaces for study, meeting and community.
William Danoff, whose generous contributions with his wife Ami Kuan Danoff have supported the project, said at the ceremony that the couple aim to focus on philanthropy that has the greatest impact possible, and were thrilled by the prospect that many Brown students will benefit from the building in the years to come.
"We're working together to make a better Brown, a better neighborhood, a better future and a better state," Danoff said. "One of the lessons I've learned over time is this notion of 'to live is to give and to give is to live'. Life has more meaning when we share it, when we work together.
The sentiment was echoed by the other two speakers at the ceremony, Scott Duhamel, secretary-treasurer of the Rhode Island Building and Construction Trades Council, and Andrew Cortés, executive director of Building Futures, a Providence nonprofit that empowers Rhode Islanders of all backgrounds to learn the fundamentals of a wide variety of construction trades without paying tuition or incurring debt.
The University has a long-standing partnership with Building Futures; Over the past 15 years, 355 apprentices hired by Building Futures have logged hundreds of thousands of man hours on 25 different construction projects at Brown.
"Brown is leading by example," Cortés said. "I cannot overstate the impact our partnership with Brown has had not only for Building Futures graduates, but across the state. This means that 355 people who used to live in poverty now have a middle class life.
In the past five projects alone, 50 Building Futures apprenticeship graduates have started their new careers on Brown's campus, collectively completing more than 20,000 hours of work.
The Brook Street residence will soon be part of this group. "When we build Brown, we build careers," Cortés said. "High-quality recorded apprenticeships ensure that in each of the construction trades, post-secondary education happens when we build the walls, and it happens behind Brown's walls.