Annual Symposium of the National Consortium for Catholic Studies
From September 8-10, 2022, the National Catholic Studies Consortium held its second annual symposium at Loyola University Chicago. Participants represented centers and programs of Catholic studies from more than a dozen colleges and universities. The three-day event was organized by the Hank Center for Catholic Intellectual Heritage and co-sponsored by the Center for Catholic Studies at Seton Hall and the Catholic Studies Program at Duquesne University.
The first Center for Catholic Studies was founded at the University of St. Thomas, Minnesota, in 1993, followed by Seton Hall University in 1997. These universities were at the forefront of a national initiative that spawned more than 50 centers, programs and initiatives in the decades that followed. Seton Hall's support for this national network has been reinforced by its recent Porticus Fellowship, which aims to sustain and revitalize the identity and mission of Catholic colleges and universities by developing a network of faculty within institutions and across institutions that serve the local church and community.
In the spirit of collaboration and scholarship, the three-day symposium allowed faculty and administrators to share common ideas, visions and best practices in Catholic studies. The diversity of institutions, disciplines and structures gave rise to rich and stimulating discussions.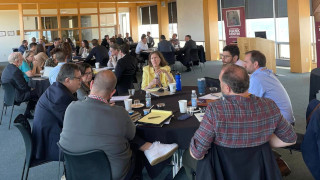 Four members of the Seton Hall community participated in the symposium (as pictured from left to right) – Reverend Gerald Buonopane (Minister of the Priesthood Community and Professor of Chemistry), Dr Ines Murzaku (Director of the Catholic Studies Program and Professor of Religion Studies), Dr. Gregory Floyd (director of the Center for Catholic Studies and senior scholar at the university), and Dr. Matthew Higgins (director of programs at the Center for Catholic Studies).
Both Dr. Muzaku and Reverend Buonopane gave presentations to the consortium as part of the program's many discussion sessions. Dr. Ines Murzaku has presented twice: first on the International Federation of Catholic Universities and then on "Mission Integration and Innovation: Teaching Catholic Studies". In her second presentation, she highlighted the various successes of the Catholic Studies program at Seton Hall. Of particular note is the new Catholic Academy of Social Thought in Action. Reverend Gerald Buonopane presented "What have faith and science to do with food?" describing its unique course that engages chemistry and theology.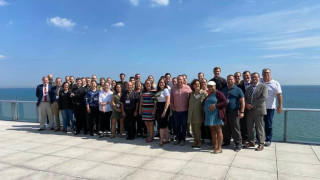 Professors and administrators from more than a dozen Catholic colleges and universities attended the symposium
Describing the conference, Dr. Murzaku said, "Being part of the Catholic Studies Consortium is very beneficial for us. The exchange of experiences, best practices, challenges and successes of Catholic studies programs across the country means that we are not alone but rather are part of a whole movement or revolution in Catholic studies.Furthermore, the conference made me think more about the inherent connection between the Center for Catholic Studies and the Program of Catholic studies and how these two have grown together to become a point of reference and prestige for the university."
Center director Gregory Floyd noted:
"Membership in the Consortium for Catholic Studies has already been a source of great benefit to Seton Hall. Learning from the successes and challenges of faculty and administrators nationwide; top Catholic colleges and universities for three days in the spirit of true collaboration and mutual encouragement is as rare as it is useful.We at the Center are grateful to be able to support this growing movement which is well placed to do much good for Catholic higher education.
The next two annual symposia are scheduled to take place at Sacred Heart University in Connecticut in the fall of 2023 and at Seton Hall in the fall of 2024.