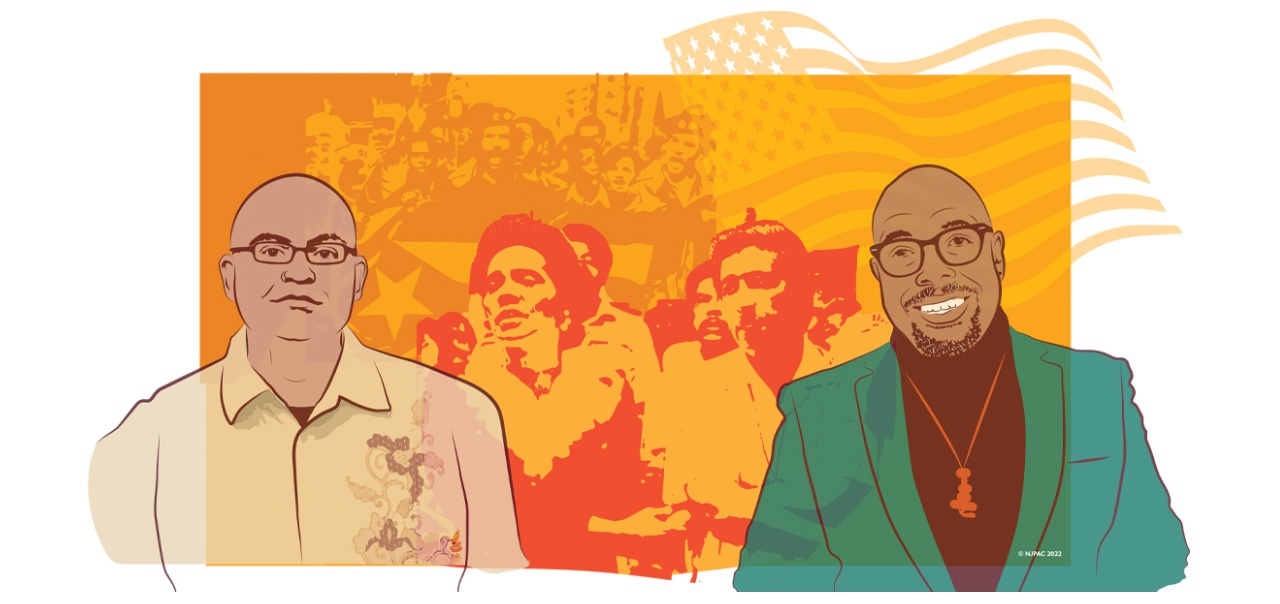 Alumni play key role in jazz and poetry partnership with NJPAC
"I'm the kind of person who's always looking for who's not in the room," says poet and educator Vincent Toro, a graduate of Rutgers University–Newark University's MFA program in creative writing who earned an undergraduate degree. in English at Rutgers–New Brunswick. .
When Toro's mentor, Professor Rigoberto González, director of the Rutgers-Newark MFA program, hired him to organize a virtual jazz and poetry performance for the City Verses program, the university manages in conjunction with New Jersey Performing Arts Center (NJPAC), Toro LC '11, GSN'13 knew exactly what they wanted to create. He wanted to celebrate the interplay between jazz and poetry while paying homage to the many little-known ways in which Black and Latinx struggles for equality are intertwined.
The resulting performance, "A Beautiful Bond," which was filmed at NJPAC and Clement's Place, a jazz lounge on the Rutgers-Newark campus, External will stream for free on Facebook Live at 7 p.m. Nov. 8 in the part of the TD James Moody Jazz Festival at NJPAC. "That idea was already burning in me," Toro says. "Because people know about Martin Luther King, but do they know about King's relationship with Cesar Chavez? Blacks and browns have worked together for centuries to build a better world. »
A second City Verses performance featuring Rutgers–Newark MFA alumni Sean Battle and Attorious Renee Augustin will be presented in person at the Moody Festival. External's "Representing: A Night of Hip-Hop, Jazz, and Spoken Words," at NJPAC's Prudential Hall at 8 p.m. Saturday, November 19, features a who's who of the literary world and the hip-hop scene, including hip-hop artists Black Thought of The Roots, Speech of Arrested Development and Chuck D of Public Enemy, as well as spoken word poets and performers Nikki Giovanni and Newark Mayor Ras Baraka. Battle SAS'11, GSN'13 will be part of this performance, while Augustin GSN'22 will be among the featured poets at "Up Next!" a celebration of the work of young writers immediately afterwards.
These high-profile performances are just two elements of the multi-faceted external project City Verses, which was launched in 2019 with a $1.5 million grant from the Andrew W. Mellon Foundation. The Rutgers-Newark and NJPAC collaboration focused not only on raising the profile of jazz poetry – a genre pioneered by Harlem Renaissance literary giants like Langston Hughes and expanded by poets like Newark's Amiri Baraka, a Beat poet and father of the Black art movement, but providing a broad platform for writers from across the Greater Newark community to share their work. The program includes high school residencies, a summer camp for teenage poets and musicians, virtual and in-person poetry readings and workshops open to the public, and performances that incorporate spoken word and jazz.
Rutgers-Newark Chancellor Nancy Cantor hailed the program's impact. "City Verses is a quintessential collaboration between anchor institutions – Rutgers-Newark and NJPAC – and our city's thriving community of artists who fuse two of Newark's greatest cultural traditions: jazz and poetry," says singer. "With critical support from the Andrew W. Mellon Foundation, we have been able to leverage these traditions at a crucial time for our nation when we need to amplify diverse voices to speak their truths."
"A beautiful link"
Many City Verses performances have addressed the struggle for social justice. Yet Toro's "A Beautiful Bond" is unique in that it emphasizes the connection between two strands of the struggle for equality. "This building of bridges between the two movements has always been important to me," says Toro, an award-winning playwright and poet, now an assistant professor of English at Rider University. "My first two books are about my Latin and Puerto Rican identity – it's hybrid, it's multi-faceted. Latinx people are always negotiating our many identities.
Between poems and musical interludes in the performance, Toro and co-host/co-curator Christian McBride, an eight-time Grammy Award-winning jazz bassist, offer a masterclass in the history of black and Latino activists joining forces , reading sources such as King's correspondence with Chavez ("Our separate struggles are truly one – a struggle for freedom, for dignity and humanity," King wrote to Chavez) and interviews with Angela Davis in which she praised the Chicano community of San Jose who rallied to her defense when she was accused of conspiracy in the 1970s. After premiering Nov. 8, Externalthe recording of the performance will remain available online.
Students and elders are an integral part of the city verses
Since its launch three years ago, many students and graduates of the MFA program at Rutgers–Newark have facilitated and taught in the City Verses program, working with the NJPAC Jazz Faculty to create a new program of teaching jazz poetry to teenagers in the Greater Newark area. . Newark native and poet Dimitri Reyes SASN'16, GSN'18 created and taught some of the first classes. "We had to think of poetry as another form of musical accompaniment, like a singer," Reyes explains. "But once we got to the point where the saxophonist could understand the enjambment, or the structure of a sonnet – and that was the fun part, just scrambling and understanding – then we could find a way for the students understand."
Shan Pulusan GSN'22 has also taught at City Verses summer camps. "We looked at the fundamental elements of music – rhythm, melody, harmony – and asked ourselves: how can we insert harmony into our poems?" she said, adding that the workshops focused on the work of writers of color, LGBTQIA+ writers and local authors. "Instead of looking at jazz poetry only as this established thing – although there is a bibliography – we looked at the work of contemporary poets and broke down and analyzed the elements of musicality they used."
After earning his MFA at Rutgers–Newark, Battle founded EvoluCulture, a media and performing arts organization in Newark that hosts one of the oldest open mic series in the city. He now co-hosts workshops and readings with City Verses, and Battle has been a guest poet in City Verses classes for teens. "City Verses has both energized the programs that already exist here in Newark and given young people a space to grow their work," Battle says.