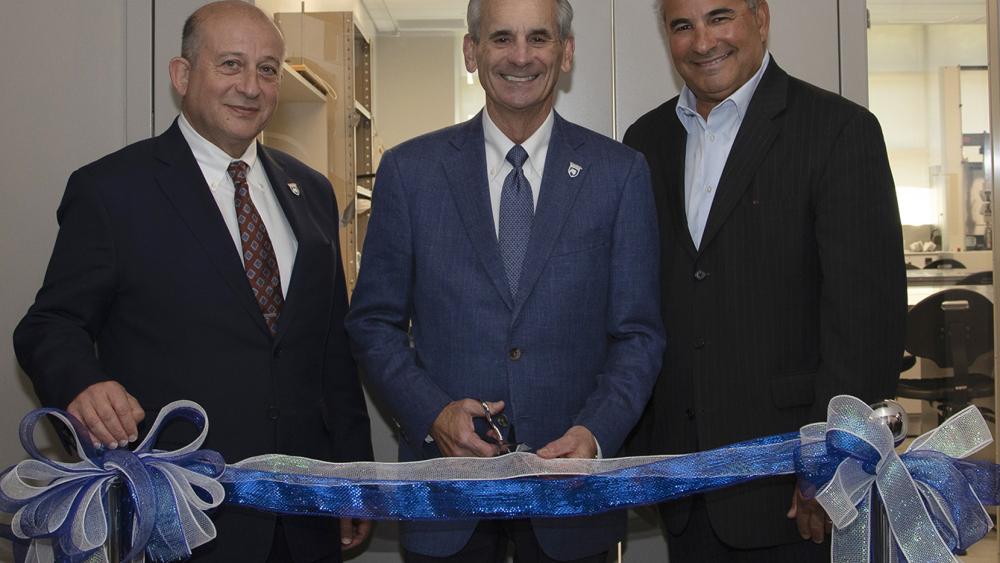 AECOM Tishman Giveaway Names Penn State Harrisburg Structures Lab
MIDDLETOWN, Pa. — Penn State Harrisburg received a $220,000 donation from AECOM Tishman to name the Structures Lab in the Educational Activities Building on campus. A groundbreaking ceremony was held on September 23.
AECOM Tishman is an American multinational engineering company that has managed the construction of iconic buildings around the world – from residential buildings to grand developments, hotels to hospitals, historic building renovations to skyscrapers.
"AECOM Tishman Structures Lab is establishing a visible and lasting partnership with a global industry leader and bringing greater visibility to our campus. The naming illustrates the critical importance of support from industry partners and our alumni network," said Penn State Harrisburg Chancellor John M. Mason Jr. "This support allows us to secure opportunities academic achievement and excellence to our students and to advance our research program. The investment in the college that led to this appointment will directly benefit the School of Science, Engineering, and Technology, its faculty, and its students.
AECOM Tishman and Jay Badame, a Penn State Harrisburg alumnus and president of the construction management division for AECOM, have long been supporters of the college's school of science, engineering, and technology. During the ceremony, Badame said: "It is an honor to be with you today, at my alma mater where I have acquired all the skills that have led me to where I am in my career. and in this business. It's truly a loopy moment for me: to come back to this great university and be here to cut a ribbon on this lab that our company AECOM Tishman has contributed to this campus – and one that I know will provide it to many more. other students. the same skills and expertise to make a name for themselves around the world and continue to do great things.